Karen72082 hat ein neues Design im Rahmen eines Design-Wettbewerbs in der Kategorie Postkarte, Flyer & Print erhalten: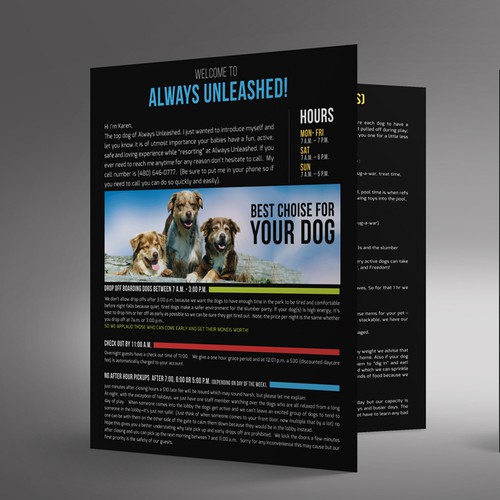 von Ammar Al-Wazzan
Sehen Sie sich den Wettbewerb von Karen72082 in der Kategorie Postkarte, Flyer & Print an…
Doggie Owners who bring their dog here for boarding, daycare and training
It's a folded 8 1/2 by 10 sheet that leaves with their 81/2 x 10 folded report card...the report card tells them how they did for their first day the other sheet you'll be designing is things they need to know before they start coming to Always Unleashed ...I just want it to look nice and flow professionally--I tend to like black as the back ground and white and blue in the print. Put titles in like a lighter colored blue and print in white...real important things can put in red...I'll tell you at the end it which parts the red maybe after I look at it. Again it goes on a 8 1/2 by 10 folded in 1/2 on the horizontal so it opens like a book. thanks karen
the report card has cartoons on it...maybe we can use those cartoons so they match even though the report card is all white because we need to write on it which is in past projects if you wanted to take a look. Thanks this is the content since I don't know where to put it. Welcome to Always Unleashed!  We sure hope your fur baby enjoyed their first day! Hi I'm Karen, the top dog of Always Unleashed. I just wanted to introduce myself and let you know it is of utmost importance your babies have a fun, active, safe and loving experience while "resorting" at Always Unleashed. If you ever need to reach me anytime for any reason don't hesitate to call.  My cell number is (480) 646-0777.  (Be sure to add me as a contact in your cell phone so I am just a click away.) HOURS   Mon- Fri 7 a.m. – 7 p.m.    Sat 7 a.m.-6 p.m.    Sun 7 a.m. – 5 p.m.   Closed daily 12-1 for lunch DROP OFF BOARDING DOGS BETWEEN 7 A.M. - 3:00 P.M.  We recommend drop off 3:00 p.m. because we want the dogs to have enough time in the park to be tired and comfortable before night falls because quiet, tired dogs make a safer environment for the slumber party.   If your dog(s) is high energy, it's best to drop him or her off as early as possible so we can be sure they get tired out.  Note: the price per night is the same whether you drop off at 7a.m. or 3:00 p.m.,SO WE APPLAUD THOSE WHO CAN COME EARLY AND GET THEIR MONEIS WORTH! CHECK OUT BY 11:00 A.M. Overnight guests have a check out time of 11:00.   We give a one hour grace period and at 12:01 p.m. a $30 (discounted daycare fee) is automatically charged to your account.  NO AFTER HOUR PICKUPS  after 7:00, 6:00 or 5:00 p.m. (depending on day of the week).    If you pick up just minutes after closing hours a $10 late fee will be issued which may sound harsh, but please let me explain: At night, with the exception of holidays, we just have one staff member watching over the dogs who are all relaxed from a long day of play.   When someone comes into the lobby the dogs get active and we can't leave an excited group of dogs to tend to someone in the lobby—it's just not safe!  (Just think of when someone comes to your front door, now multiple that by a lot) no one can be with them on the other side of the gate to calm them down because they would be in the lobby instead.    Hope this gives you a better understating why late pick up and early drops off are prohibited.  We lock the doors a few minutes after closing and you can pick up the next morning between 7 and 11:00 a.m.   Sorry for any inconvenience this may cause but our first priority is the safety of our guests. FOOD & NUTRITION - PACKING FOR YOUR DOG  If you forget or don't want to bring in your own food we provide house food at $3 per day.  IMPORTANT: LABLE EVERYTHING all food, treats, and measuring cups (even the bag you bring the food in-all of it!) MUST have your pets name clearly labeled (preferably with a bold black marker) Also include feeding instructions (reference in ounces. (i.e. 1 cup = 8 oz.)   Lastly, we prefer to use our own measuring cups because unfortunately un-labeled measuring scoops frequently wind up in our lost and found collection. So, again, if you include a measuring cup label it and with a line as to how much, if not we have house measuring cups.  FOOD WILL TO FIT INTO THE 13 X 13 CONTAINER - If your pet's food will fit into this area then you can either put all the food into one larger Ziploc bag with name and amount per meal plainly labeled on their bag or you can individually package with your pups name visibly printed on each one.   Upon each arrival you will also need to fill out a Feeding Sheet. We feel it's the best way for us to stay updated (especially with medication, most recent  contacts numbers, portion size, etc.).  FOOD WON'T FIT INTO A 13 X 13 Container -  If your pet will be enjoying an extended stay please place their food into a large plastic container that LOCKS or SCREWS ON.   We place these larger labeled containers on the ground so it is imperative that dogs can't open them.  DO NOT BRING IN large bags of dog food we have no additional space to store them and other dogs will rip into them.   During the holiday seasons we absolutely cannot store large bags of food and if you should bring one we will charge your account $40; this fee includes the trip fee and the container in order to keep your food secured and safe from other guests.   MEDICATION or SUPPLEMENTS Please use a pill box with dogs name and directions distinctly labeled.  Also bring the favorite medium in which the pill is taken: cheese, meet, treats, etc. (we supply peanut butter).  Pill boxes allow each shift to double check the administering of medication from the prior shift.   If you don't have a pill box ask us for one but it is solely your responsibility to place the correct amount of pills into the box.  We appreciate you for not asking us to do this important task. DOG RAN OUT OF SUPPLIES Sometimes customers ask us to go to the store to get more medication, food, supplies, etc.  We will charge a $25 trip fee because we are not set up to run errands and must call an employee to come in or someone has to miss their lunch.     BATHS/NAILS  Remember if you want your dog squeaky clean, we offer baths, nails or de-shedding for those not desiring a full groom (see below) at $20 per service. Please request any additional services verbally if wanted and also check the box on the feeding sheet. Please do both just to be sure it won't get missed. FULL GROOMING also available- inquire within TRAINING If you're interested in training, remember we have a money back satisfaction! Brochure in lobby and done here at the resort. ONLINE RESERVATIONS  Go to website www.DogBoardingInScottsdale.com and click "New Accounts" tab to make a boarding reservation online. However, for day care you need to call, leave a message, or send an email.   We'll send out a reminder on all boarding reservations confirming your stay, but we don't have the software capability to do that for daycare at this time.                                                                                                                                                                           F.A.Q.  (FREQUENTLY ASKED QUESTIONS)   Q: What kind of collar should my dog wear? A: For the safety of the dogs we require every dog to have a quick release collar. Also, we require each dog to have a name/identification tag that is securely connected with a heavy duty metal ring (because flimsy ones get pulled off during play; we do have a lost and found for tags if your pups loses his/hers).  If you don't have a collar we will sell you one for a little less than you would find at your local pet store.   Q: How often are the dogs inside and outside?   A: We are on a schedule (it is also printed below the splash cam for easy reference when you're tuned in  6:00 a.m. slumber guests go outside for their first potty break  7:00 a.m. - 10:00 a.m. Lots of friends start arriving and everyone is outside playing: balls, drills, toys, tug-a-war, treat time, chasing -yes lots of chasing this time of day; it's a fun to watch the cams! 10:00 a.m. - 10:30 a.m. inside break can rest or play 10:45 a.m. -11:45 a.m. Pool Time (NOTE: dogs can get into the water anytime they are outside in the yard, pool time is when refs encourage the dogs to get in by getting in themselves, getting on island and throwing toys into the pool, giving surf board rides, encouraging cliff diving, etc.) 12:00 p.m.- 1:30 p.m. Inside for Lunch and a little R and R 1:30 p.m. - 2:30 p.m. 2nd Pool Time 2:30 p.m. - 2:50 p.m. Outside play (agility equipment changes up the yard along with drills, ball, toys tug-a-war)   3:00 p.m. - 4:00 p.m. Inside to rest but die-hards continue to play inside 4:00 p.m. - 6:00 p.m. Outside play  6:00 p.m. - 7:00 p.m. Inside  7:00 p.m. Night shift comes on duty—dogs will go in the yard 2 more times before night falls and the slumber begins.  Dog tired upon arriving home (we call it the resort hangover) the norm is 1-2 days but we've heard the very active dogs can take up to 3 days to fully recuperate after a great stay. We call it the "4 F's" too much Fun, Fitness, Fresh Air, and Freedom!  Q: Why are we closed 12:00-1:00 every day? A: So the staff can eat lunch; 1/2 the staff leaves for 1/2 hr to get a bite to eat. Then the other 1/2 of leaves. So for that 1 hr we are not sufficiently staffed to attend to drop offs and pickups. Q: Can I bring personal items for my dog? A: Please do NOT bring blankets, toys, bowls, or unlabeled measuring cups for your dog. We have all these items for your pet – a majority of our big dog toys are the indestructible type, (helps to prevent ingestion), our bowls are all stackable, we have our own measuring cups so yours isn't necessary.  Lastly, we provide clean blankets in the winter so your pets personal items do not get misplaced or damaged.   .Q. If my dog is really active will he/she lose weight when boarding? A. More than likely. Active, high energy dogs do tend to lose weight. If you don't want your dog to lose any weight we advise that you pack more food per meal than usual since they are burning a lot more calories than when they are at home. Also if your dog is a picky eater please bring any type of enticements that we can add to your dog's meal to help them to "dig in" and eat!  Suggestions: canned pet food, any type of meat, cottage cheese, left overs, etc.  We also have house food which we can sprinkle on the top (free of charge) if you check the box on the feeding sheet. (Our house food is a variety of all kinds of food because we feel mixing high quality foods will surely satisfy the of pickiest eaters.) Q. How many happy guests are there on average at the resort? Your pet will make lots of new friends, we never know how many dogs we will have on a given day but our capacity is approximately 125 guests.  We always increase staff and use the "Tiny Town" upstairs during the holidays and busier days. The upstairs also has a 700 sq. ft. shaded grassy patio deck so the smaller dogs can go outside to play and not have to learn any bad potty habits.  Q. Why is a dog being rolled in the yard and then what appears to be the staff member poking the dog in the neck. If a guest is not listening while being corrected for mounting, snipping, not settling, playing too rough, etc we alpha roll the guest.  We use our hand like a dogs mouth and give them a gentle but firm nip to the neck it doesn't hurt the dog. Dogs play with their teeth, we are using our hands! We do this and many other drills to help establish hierarchy, order, and safety at the resort for all of our guests! Safety is our biggest concern and we feel the drills are necessary Q.  Can dogs get sick while at the resort? A. Of course dogs, just like most two-legged children at school, can get sick. If we notice or are alerted about a dog getting sick we post it on a sheet and hang it from the front desk to notify all owners about which symptoms to watch out for and a list of which dogs were not feeling well! (Please always be sure to contact us immediately if your pet should ever become under the weather so we have documentation and are made aware in case other guests report similar symptoms.) Q. What if my dog needs to see a vet? A. In the event of an emergency your pet is taken next door to the 24 hour emergency vet clinic. If your pet is required to see a vet we bill  $20 per hour for transportation and waiting time because it requires us to call someone in.  All vet fees are in addition to resort fees and are always paid for by the owner. We will contact the owner immediately in the event of a suspected necessary vet visit and keep the owner up to date, but if we can't get ahold of you we have to do what we deem necessary! Q. Can my dog's paws get sore? Yes, very active or skin sensitive dogs can occasionally get sore paws.  It's usually attributed to our guests' paws being active on the pebble tech lagoon pool surface or from just from running around on the synthetic turf or epoxy coated concrete floor. We do not check every dog's paws daily because it isn't that frequent of an event. But if we should see your dog limping we check the paws; if the paws are raw or irradiated we will put either a pink bandanna (signifies that dog is allowed out for 1/2 the play time during the day) or red bandanna (can't go out into yard until paw is healed). The good news if your daycare pet gets sore paws they will build up tougher paws. We average about 1 dog per month getting sore paws. It's not super common, but common enough to mention. Mushy Paws is an over the counter cream that you can apply on your dog's paws about a week prior to staying at the resort to help toughen up and toughen the paw pad.  Q. Can my dog get bitten or injured?  Yes, it can happen because dogs play with their teeth.  It's very seldom see an actual fight. We typically see a puncture wound or a cut created from a canine. An actual fight we would hear and the dog would have more than one puncture or cut.  We are not held responsible and cannot control if a dog is bitten; we turn dogs away that nip too much even if they haven't harmed another dog.  Also, dogs can twist an ankle, get sore hips, rip a nail, etc.—they're moving and grooving. Again, we are not responsible.     We hope you found this packet informative and helpful and we look forward to all of our guests enjoying many memorable and happy stays here at Always Unleashed Pet Resort!
Jede Design-Kategorie bietet Flexible Preise für jedes Budget. Die Kategorie Postkarte, Flyer & Print beginnt bei € 179.
Unbeschränkte Nutzungsrechte sowie alle nötigen Dateien zur sofortigen Verwendung.
Alles begann mit einem Design-Briefing.
Ein schneller, interaktiver Leitfaden half dabei, den gewünschten Design-Stil zu kommunizieren und die eigenen Erwartungen in der Kategorie Postkarte, Flyer & Print abzubilden.
Designer auf der ganzen Welt erstellten daraufhin zauberhafte Designs.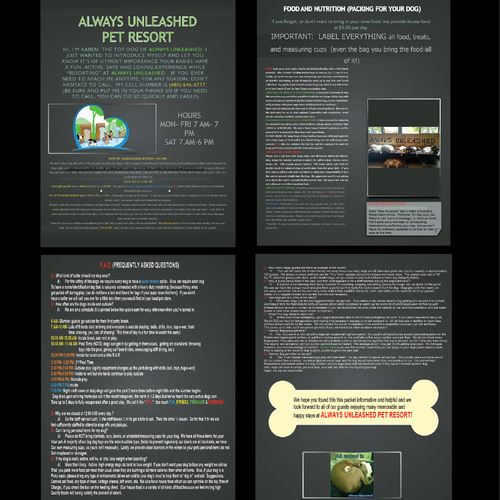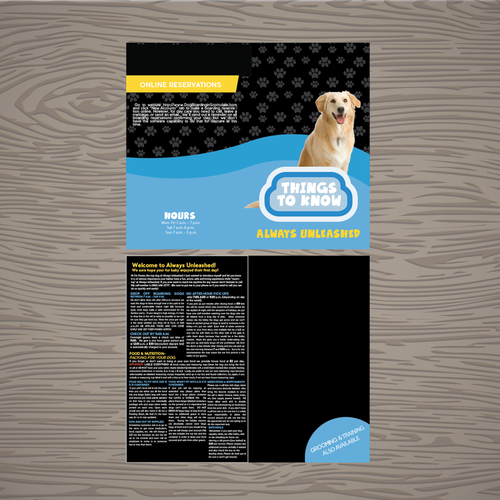 Sie erhalten eine Vielzahl von Design-Konzepten von erfahrenen Designern auf der ganzen Welt.
Arbeiten Sie mit talentierten, professionellen Designern der Kategorie Postkarte, Flyer & Print zusammen, um Ihre Ideen Wirklichkeit werden zu lassen.
Wählen Sie Ihr favorisiertes Postkarte, Flyer & Print (oder gleich zwei oder sogar drei) und alles gehört ganz Ihnen.
Karen72082 arbeitete mit den Designern gemeinsam an deren Ideen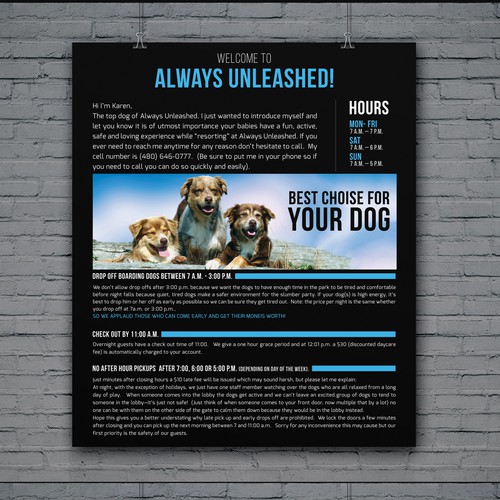 Bewerten Sie Designs
Sobald Designs eingereicht werden, können Sie diese bewerten, um den Designern eine Orientierung zu geben.
Geben Sie Feedback
99designs bietet großartige Tools für die Zusammenarbeit mit Designern, um Ihnen dabei zu helfen, Ihre Gedanken und Ideen festzuhalten
Und dann… wurde ein Gewinner gewählt!
Kundenbewertung
Let me tell you why I didn't hesitate in the least to give Ammar a 10+! I have used 99 designs for about 4 years and have had apx 15 different contests --and I'm an annoying perfectionist. The last contest was a flyer for the parents-- things they need to know before bringing their dogs to my pet resort- Always Unleashed. It was the first time that I loved what a designer did right and off the bat. His design was so striking that I didn't need to invite anyone else to the final round -except him!!! I felt heck should I try a few ideas to try and improve on perfection. I had Ammar try some different things and each idea I had was inferior but he never complained and I ended up changing nothing because you can't improve on perfection. He was quick, understanding, listened perfectly and made the experimental changes fast. Ammar is so talented, there were no runner ups because his work was so much more superb than the competition and I didn't want to waste the competitions time or give them any false hope...I knew Ammars' was by far the best design. Can't go wrong on Ammar -- be sure to invite him to all your contests you'll be impressed with his talent and his awesome customer service! Thanks Ammar for ticking me pink!
Karen72082
Auf ihrem Weg haben sie viele talentierte Designer kennen gelernt...
Wir finden, dass Design-Wettbewerbe richtig viel Spaß machen!
Kürzlich abgeschlossene Wettbewerbe:
Sehen Sie sich noch mehr Tiere & Haustiere -design Inspiration an